V-Day:
It's a bit late but I couldn't resist to re-post such a pretty picture~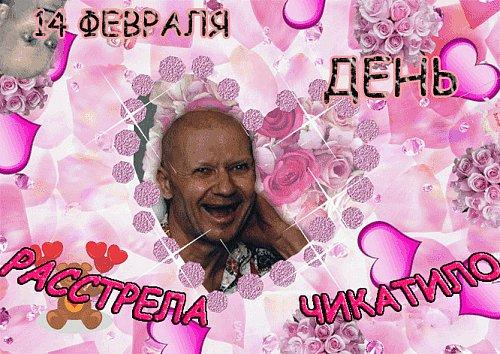 (c)
black-humour
The text reads:
14 February - The Day of Chikatilos execution
.(
ref.1
)
Now that was a really good reason to rejoice. Even if you are just a pathetic single.
It's not that I'm not appreciating love & romantic: last morning I saw that beautiful smoky rose ... and head off to the university smiling like an idiot~


now for the X-Day - Exams date.
I'm overwhelmed. A bit.
Feeling like running out of time. Running out of motivation.
Studying is fun, studying is
great
- but exams ... the exam phase always makes me feel like I'm wasting my time. I mean - I already know how much I've learned or understood this semester, why should I spend so much time on convincing other people I've done a lot more? *grump*
So, the next week or two you won't hear that much from me~
But first I'd like to give proper credits to our amazing theatre ♥ I'm not that much into modernization the classics (I was complaining about the project "Goethe for young readers" in my school leaving examinations for 4 pages) but I loved the modern "Tartuffe" performance to the very bits. Especially, since the deus ex machina wasn't the royal envoy this time but the maid, who was secretly working for some underground organization :D I know, I know, it sounds really weird, but it's way more realistic that having a kings man sorting things out because... yeah, what other reason could the good man have except for Moliére to get his play allowed?
And I had great company with me - not only she is a cute girl studying chemistry as well (two semesters ahead of me) but she is also a Weiß Kreuz fan. The first one I personally know in the radius of 100 km. Yay! (that's rare, in Göttingen you're more likely to find a vegan or a Buddhist or a transsexual or an ex-soldier rather than some Weiß Kreuz fans.)
My lucky streak in discovering new hobbies seems to hold a bit longer: Does somebody know Anne Holt? A Norwegian crime novelist and lawyer (it seems those two always goes hand in head) Her initial books were nice but quite average, the protagonist was a bit of a Mary Sue (a really cool one, though, I have to admit that much. She was a lesbian, had long, beautiful hair and a perfect intuition XD) but some of Anne Holts last stories were unexpectedly impressing. Especially "What Never Happens". I'm always cynical about books falling in the category of "psychological thriller" but this one really deserves it.
( spoiler )


X-Ray:
It's the subject of my university public speech. Actually it's: "X-Ray and neutron diffraction". I can clearly see the point of teaching students how to give a proper presentation, the problem is: We are about 100 students and each and every one of them have to preform their half an hour. In all the three branches. So, it's three weekend spend in our beloved university. The series of lectures starts on Friday at
1 p.m. and goes till 6 p.m. We could have other lectures on Friday - that's why it starts only at 1 p.m. But hey, the following day is a Saturday! Means - the lecturers starts at
8 a.m
. and goes till
6 p.m.
On Sunday it's the same. And for Monday it's the schedule of Friday again.
As much as I love my subject, it's a bit too much of knowledge to consume on one weekend. And I'm going to set the alarm of my mobile phone in order not to oversleep my own presentation...
But, well, it's all planed for April-May. Plenty of time to concoct a plan...